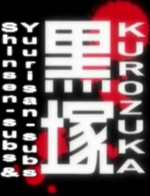 Welcome to the Kurozuka Wiki, an online collaborative encyclopedia that anyone can edit! This is a wiki designed to gather as much information as possible on the novel, manga and anime series. Remember that this wiki is quite new, meaning some information might still be absent or lacking in details. This fact is only an encouragement for you to join and start editing this wiki! Have fun!
About Kurozuka Edit
Kurozuka is a novel and Japanese manga series written by Baku Yumemakura and illustrated by Takashi Noguchi. The manga was first serialized in the Japanese seinen manga magazine Super Jump starting in 2003 by Shueisha and ended in December 2006.

Genres: action, horror, psychological, romance, science fiction
Themes: amnesia, death, dreams, gore, post-apocalyptic, vampire
Plot Summary: Kuro, a 12th-century man, flees into the mountains after losing to his brother, where he meets a strange, beautiful woman named Kuromitsu. Kuro falls in love with Kuromitsu but realizes she conceals a dark secret. She is unable to die and continues to live for thousands of years as Japan evolves into a future society.

Episodes: 12
Volumes: 10
Ad blocker interference detected!
Wikia is a free-to-use site that makes money from advertising. We have a modified experience for viewers using ad blockers

Wikia is not accessible if you've made further modifications. Remove the custom ad blocker rule(s) and the page will load as expected.